September 30, 2010:
GC Farms Honored by Local Food Bank.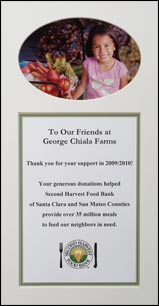 George Chiala Farms, a proud supporter of Second Harvest Food Bank of Santa Clara and San Mateo Counties, was recently recognized for over a decade of contributions. To learn more about the Chiala family's involvement in Second Harvest, read here: http://www.shfb.org/Page.aspx?pid=289
Second Harvest Food Bank provides more than 35 million meals to Santa Clara and San Mateo community members each year, and is the single largest nonprofit provider of food to low-income households in Santa Clara and San Mateo Counties.
The Chiala family is proud to be able to support this wonderful, much needed community organization.