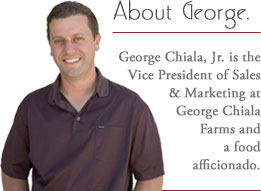 George has had a love of all things culinary from a very young age, and throughout his career, has worked with renowned chefs and food technologists. He discovered his passion for cooking at the age of five after spending time in his grandmother's restaurant. From then on, under his mother's guidance (who is a talented cook of her own accord) George recalls cooking anything his mother would let him, starting out with scrambled eggs and hamburgers and quickly moving on to fine Italian and French dishes.
After many years of honing and perfecting his culinary craft, George still enjoys what he humbly considers: "complimenting my family culinary experience," by taking courses in regional cuisines pertaining to the vegetable ingredient products his family specializes in, namely: Asian, French, Mediterranean, Mexican and Tex Mex.
Because of George's extensive knowledge and passion for food, he is a great resource to customers in helping them find the right ingredients for their recipe needs. "I need to understand what's happening in the kitchen," he explained. "If my client has an unfavorable flavor note, I need to be able to assess the situation to understand why." That extra level of service and care undoubtedly stems from his love of food and his work alike, which fortunately for George, go hand and hand.
3/4 cup unsweetened Dutch process cocoa
3/4 cup hot strong brewed coffee
1 1/2 cups all-purpose flour
1 cup cake flour
1 tablespoon baking powder
1/2 teaspoon salt
1 cup sugar
1/2 cup brown sugar
1 cup plus 1 tbsp. butter, at room temperature
2 eggs, at room temperature
2 egg yolks, at room temperature
1 1/2 teaspoons vanilla extract

1 - Heat the oven to 350 degrees. In a medium bowl, whisk together the cocoa and coffee until combined and smooth. Set aside until the mixture comes to room temperature.
2 - Meanwhile, in a separate medium bowl, sift together the flours, baking powder and salt. In a small bowl, whisk together the sugars, making sure there are no lumps.
3 - In the bowl of a stand mixer using the paddle attachment, or in a large bowl using a hand mixer, cream together the butter and sugars until the mixture is light and airy, about 5 minutes. Scrape the sides as needed for even mixing.
4 - With the mixer running, mix in the whole eggs, then the yolks, one at a time, until fully incorporated. Mix in the vanilla until just combined.
5 - Mix in the combined dry ingredients and cocoa mixture, alternating between the two (one-third of the dry, then half of the cocoa, in stages) until both are thoroughly combined, being careful not to over-beat.
6 - Evenly spoon the batter into 20 lined cupcake pans; the batter should fill each liner two-thirds to three-fourths full. Bake the cupcakes, one pan at a time and in the center of the oven, until the cupcakes have risen and a toothpick inserted into the center comes out clean, 15 to 20 minutes. Rotate the pan halfway through for even baking.
7 - Remove the pan to a rack to cool before frosting the cupcakes. The cupcakes are best eaten the same day they are made, or can be frozen as soon as they are cooled.